Summer is officially here, and that also means that there's more anime on the horizon. Heres a list of the new anime that will be released in July and the rest of the summer. As with before, some of the titles that are on this list do not have a synopsis or a trailer.
Deban Desu yo! Onigirizu (Available Now)
A short series created to commemorate the 25th anniversary of the NECO broadcast channel. It focuses on the backstage chatter and concerts of a band called Onigirizu. The first episode was previewed on NECO's YouTube channel.
Okusama ga Seito Kaichou! (July 1st)
The story begins with Izumi Hayato running to be student body president. But when a beautiful girl swings in promising the liberalization of love while flinging condoms into the audience, he ends up losing to her and becoming the vice president. At the student council meeting, the newly-elected president invites herself over to Izumi's house, where she promptly announces she is to become Izumi's wife thanks to an agreement – facilitated by alcohol – made between their parents when they were only 3.
(Source: MAL Scanlations)
Gangsta. (July 2nd)
In the town of Ergastulum, there exists a feared group of people with increased speed and strength called Twilights. The town is ruled by four gangs: Paulklee, Corsica, Monroe, and Cristiano. Worick Arcangelo and Nicolas Brown make a living here as independent jacks-of-all-trades and find themselves caught in the middle of more than a little trouble.
(Source: VIZ)
Chaos Dragon: Sekiryuu Senyaku (July 2nd)
The story takes place in Huanli (the Year of Dazzling) 3015. Donatia and Kouran, two countries fighting for supremacy, are causing the world to be torn apart due to the constant war. Amidst the strife is the island country Nil Kamui, which has lost its independence. Red Dragon, the guardian god of Nil Kamui, goes out of control. Will the island country be able to regain its independence?
(Source: MAL News)
Aquarion Logos (July 2nd)
No Synopsis Available
Ranpo Kitan: Game of Laplace (July 3rd)
The story takes place at a certain middle school where several murder cases take place. Kobayashi, a boy who goes to this school, meets genius detective Akechi, who comes to the school to investigate. Kobayashi takes an interest in Akechi and, in spite of his friend Hashiba's worries, he volunteers to be Akechi's assistant.
(Source: Anime News Network)
Aoharu x Kikanjuu (July 3rd)
When Hotaru moves into a new apartment alone, there's a mysterious man standing nearby the apartment. Hotaru decides to confront the man, who turns out to live in the neighbouring apartment. The next day at school, Hotaru's best friend Kanae tells Hotaru that a host tricked her out of her money. When Hotaru goes to confront the host, he happens to be none other than Hotaru's neighbour, Masamune?!
(Source: The Zero Alliance)
Joukamachi no Dandelion (July 3rd)
The Sakurada family is a pretty ordinary family of eleven people living in a solitary house. Except that their father is the king, and each of the children has special powers. Also, to ensure their safety and to help citizens decide the next king, the house is observed by more than 200 security cameras.
Ushio to Tora (2015) (July 3rd 2015)
Ushio thinks that his father's talk of an ancient ancestor impaling a demon on a temple altar stone with the legendary Beast Spear is nuts, but when he finds the monster in his own basement, Ushio has to take another look at the family legend! To save his friends and family from the invading spirits, Ushio is forced to release Tora from his captivity. But will the creature prove to be worse than the curse?
(Source: ADV Films)
Miss Monochrome: The Animation 2nd Season (July 3rd 2015)
"Miss Monochrome" is an original character design from seiyuu Horie Yui. In March 2012, she first used the "Miss Monochrome" character as a 3D virtual singer to sing her songs at her concert "Horie Yui wo Meguru Bouken III ~Secret Mission Tour~". Later, the character appeared in a range of merchandise as well as in the social network game "Girlfriend (Beta)".
According to the setting, Miss Monochrome loves only the monochrome style, dislikes all kinds of color, and always dreams about changing the world into her favorite monochrome color.
(Source: MAL)
Wooser no Sono Higurashi Mugen Hen (July 3rd 2015)
Third season of Wooser no Sono Higurashi.
Wakaba*Girl (July 3rd 2015)
The story centers around the activities of Wakaba Kohashi, "a slightly out-of-tune super" daughter of a well-to-do family, and her friends. Wakaba (literally, "young leaves") looks like an elegant rich daughter, but she admires the trendy gyaru fashion subculture. There is also the pure, innocent, fairy-tale-like Moeko. Mao is capricious and behaves in her own way. Nao used to be an athletic type of girl, but now loves the boys-love genre.
(Source: ANN)
Hetalia The World Twinkle (July 3rd 2015)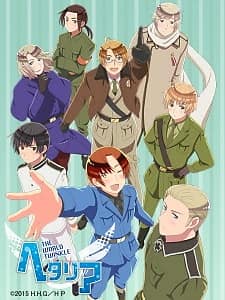 The sixth season of Hetalia.
Gate: Jieitai Kanochi nite, Kaku Tatakeri (July 4th 2015)
In August of 20XX, a portal to a parallel world, known as the "Gate," suddenly appeared in Ginza, Tokyo. Monsters and troops poured out of the portal, turning the shopping district into a bloody inferno.
The Japan Ground-Self Defence Force immediately took action and pushed the fantasy creatures back to the "Gate." To facilitate negotiations and prepare for future fights, the JGSDF dispatched the Third Reconnaissance Team to the "Special Region" at the other side of the Gate.
Youji Itami, a JSDF officer as well as a 33-year-old otaku, was appointed as the leader of the Team. Amid attacks from enemy troops the team visited a variety of places and learnt a lot about the local culture and geography.
Thanks to their efforts in humanitarian relief, although with some difficulties they were gradually able to reach out to the locals. They even had a cute elf, a sorceress and a demigoddess in their circle of new friends. On the other hand, the major powers outside the Gate such as the United States,China and Russia were extremely interested in the abundant resources available in the Special Region. They began to exert diplomatic pressure over Japan.
A suddenly appearing portal to an unknown world—to the major powers it may be no more than a mere asset for toppling the international order. But to our protagonists it is an invaluable opportunity to broaden knowledge, friendship, and ultimately their perspective towards the world.
(Source: novel synopsis via Baka-Tsuki)
Kinya, Abe Reiji: Heikin-teki na Salaryman no Ijou na Nichijou (July 4th 2015)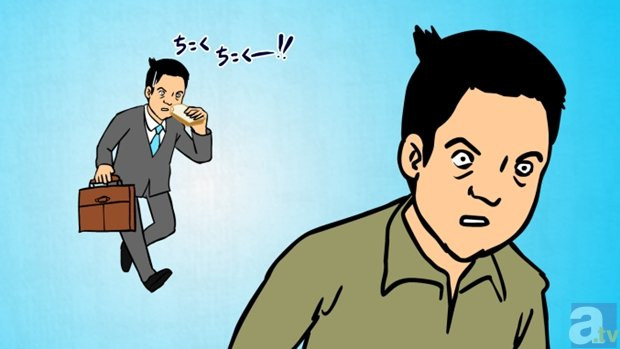 Five three-minute episodes will air in a month. The anime will have segments about the state of salarymen throughout Japan, such as how many eat bread or rice for breakfast.
(Source: ANN)
Classroom ☆ Crisis (July 4th 2015)
With aims to one day reach out into the stars, humanity has colonized all the planets of the solar system. This story of young high school hopefuls is set in Fourth Tokyo in a Japanese Martian prefecture. Iris Shirasaki is a third year student/aspiring test pilot. Mizuki Sera is her peer/mechanic and Mizuki's brother Kaito is their homeroom teacher and the young director of the program developing their talents.
(Source: official website via Crunchyroll News)
Senki Zesshou Symphogear GX: Believe in Justice and Hold a Determination to Fist. (July 4th 2015)
After the frontier incident, everyone who knew the circumstances believed the Noise were gone and the pain they caused was at an end. But a new conflict approached unseen. In the Yokohama Harbor Oosan-bashi Pier, a new pattern is detected that is similar to the Noise. A combat group wielding mysterious technology stands in the way of Hibiki and the others. When she hears of this enemy of unprecedented strength, Tsubasa hurries back home from England. But the Symphogear users see no opening to counterattack are forced into a difficult fight. In this situation of extreme disparity, the battle for the song that will end the world begins.
(Source: MoCa news via Anime News Network)
Boo Boo Boy (July 4th 2015)
A young boy has adventures with his transforming car.
Shimoneta to Iu Gainen ga Sonzai Shinai Taikutsu na Sekai (July 4th 2015)
16 years after the Law for Public Order and Morals in Healthy Child-Raising banned coarse language in the country, Tanukichi Okuma enrolls in the country's leading elite public morals school and is soon invited into the Anti-Societal Organization (SOX) by its founder, Ayame Kajou. As a member blackmailed into joining by Ayame, Tanukichi ends up taking part in obscene acts of terrorism against the talented student council president Anna Nishikinomiya, whom Tanukichi has a crush on.
(Source: ANN)
Durarara!!×2 Ten (July 4th 2015)
A second season of Durarara!! is in the works. The story takes place a half year after the first series at Tokyo's Ikebukuro neighborhood.
The second part, "Ten," or "Motion," will air in July 2015.
(Source: ANN)
Charlotte (July 5th 2015)
Very few adolescent boys and girls have an onset of special abilities. Yu Otosaka is one such man who uses his ability unbeknownst to others in order to lead a satisfying school life. Then one day, a girl named Nao Tomori suddenly appears before him. Their encounter reveals the destiny for wielders of special abilities.
(Source: Aniplex of America)
Working!!! (July 4th 2015)
The story takes place in a certain family restaurant located in Hokkaido prefecture of Japan called WAGNARIA. Sota Takanashi is a high school student who ended up working part-time at this restaurant through strange circumstances along with his co-workers who are all more than a little eccentric.
(Source: Aniplex of America)
Kurayami Santa (July 5th 2015)
Kurayami Santa overlays animation on archived footage from the 1960s in order to recreate a Showa-era atmosphere. The protagonist, Santa, is tasked with maintaining the balance between the spirit and human worlds.
(Source: MyAnimeList News)
Gatchaman Crowds Insight (July 5th 2015)
Summer of 2015. The incident that occurred in Tachikawa, Tokyo called the "Tachikawa Incident."
It's been one year since then… CROWDS- the system that turns the mentality of humans into physical form that Berg Katze gave to Rui Ninomiya after extracting his NOTE- has spread among the public as a thing that anyone can use. The man who approved and pushed along this plan was none other than Prime Minister Seitaro Sugayama.
However, people who do not think well of CROWDS are now living with anxiety and dissatisfaction. Among this unease, one day, a mysterious organization attacks Sugayama as he was riding in a ministry vessel.
The next battle for the warriors with wings begins anew.
Rokka no Yuusha (July 5th 2015)
The story centers around six heroes — except seven appear instead. One must be a fake and the heroes' enemy.
When the Majin awoke from the depths of darkness, the deity of fate chose six heroes and bequeathed them with the power to save the world. Adoretto, a boy who proclaims himself the strongest on Earth, was selected among the Rokka no Yūsha (Heroes of the Six Flowers), and he goes to the rendezvous point — but seven have gathered there. The heroes suspect that someone among the seven is the enemy, and the initial suspicion falls on Adoretto.
(Source: light novel synopsis via ANN)
Dragon Ball Super (July 5th 2015)
Reuniting the franchise's iconic characters, Dragon Ball Super will follow the aftermath of Goku's fierce battle with Majin Buu as he attempts to maintain earth's fragile peace.
(Source: AniDB)
Wakako-zake (July 5th 2015)
Murasaki Wakako, who is 26 years old, loves going out alone to enjoy eating and drinking, especially when something unpleasant happens at work. This manga follows Wakako through many solitary outings, where she enjoys different combinations of food and drink!
(Source: MangaHelpers)
God Eater (July 5th 2015)
The Far East, 2071.
The domain of the mad gods.
In the early 2050s, unknown life forms called "Oracle cells" begin their uncontrolled consumption of all life on Earth.
Their ravenous appetite and remarkable adaptability earn them first dread, then awe, and finally the name "aragami".
In the face of an enemy completely immune to conventional weapons, urban civilization collapses, and each day humanity is driven further and further toward extinction.
One single ray of hope remains for humanity.
Following the development of "God Arcs"—living weapons which incorporate Oracle cells—their wielders are organized into an elite force.
In a world ravaged by mad gods, these "God Eaters" fight a desperate war…
(Source: Anime Consortium Japan)
Q Transformers 2nd Season (July 6th 2015)
Second season of Q Transformers: Kaettekita Convoy no Nazo.
Akagami no Shirayuki-hime (July 7th 2015)
The story revolves around Shirayuki, a beautiful girl working as a medicine woman who has red hair, which is very rare in her country. When she is proposed and chased after by the prince of her country, she runs away, only to meet Zen, the prince of a neighbouring country. Finding respect for the young man, she decides to serve at his side as his court doctor.
(Source: ANN)
To Love-Ru: Trouble – Darkness 2nd (July 7th 2015)
New season of To LOVE-Ru Darkness announced at Jump Festa 2015.
(Source: MAL)
Teekyuu 5 (July 7th 2015)
Fifth season of Teekyuu.
The series follows the hilarious everyday routines of four girls in the Kameido High tennis club who, on occasion, actually play some tennis.
(Source: Crunchyroll)
Million Doll (July 7th 2015)
Million Doll revolves around Sūko, an idol-loving hikikomori (shut-in) who has one ability: To make any idol popular through the power of blogging. She puts her sights on the Fukuoka idol Itorio and tries to make her sell more, but she is impeded by the charismatic idol Ryūsan and the underground idol Mariko.
(Source: ANN)
Jitsu wa Watashi wa (July 7th 2015)

Meet Kuromine Asahi, "the man who can't lie". On the way home, he just learned an important secret. That his crush, Shiragami Youko, is actually a vampire! Can Asahi actually keep her secret?
It's a fun, clumsy, one of a kind vampire romantic comedy!
Non Non Biyori Repeat (July 7th 2015)
Elementary school student Ichijou Hotaru has moved with her parents from Tokyo to the middle of the country. Now she must adapt to her new school, where there are a total of 5 students in the same class who range through elementary and middle school ages. Join their everyday adventures in the countryside.
(Source: MangaHelpers)
Kaijuu Sakaba Kanpai! (July 7th 2015)
In the series of shorts, various monsters from the Ultra franchise visit the "Monster Bar" every evening to drink away their troubles, whether they have fought a good fight against the Ultra heroes that day or if they've been beaten black and blue. The monsters all gather to refresh themselves, to gather their energy, and to come up with more sinister plans for tomorrow. Baltan is the shop manager of the "Monster Bar," his assistants are Dada and Kanegon, and his part-time worker is Pigmon. The bar's regular customers include: Red King, Eleking, Gomora, Gudon, Zetton, King Joe, and Twin Tail.
(Source: ANN)
Overlord (July 7th 2015)
In the year 2138, virtual reality gaming is booming. Yggdrasil, a popular online game is quietly shut down one day. However, one player named Momonga decides to not log out. Momonga is then transformed into the image of a skeleton as "the most powerful wizard." The world continues to change, with non-player characters (NPCs) beginning to feel emotion. Having no parents, friends, or place in society, this ordinary young man Momonga then strives to take over the new world the game has become.
(Source: Anime News Network)
Sore ga Seiyuu! (July 7th 2015)
The series centers on Futaba Ichinose, Ichigo Moesaki, and Rin Kohana, three rookie voice actresses. The manga features small but humorous observations of the voice actor industry.
(Source: ANN)
Monster Musume no Iru Nichijou (July 8th 2015)
Monsters—they're real, and they want to date us! Three years ago, the world learned that harpies, centaurs, catgirls, and all manners of fabulous creatures are not merely fiction; they are flesh and blood—not to mention scale, feather, horn, and fang. Thanks to the "Cultural Exchange Between Species Act," these once-mythical creatures have assimilated into society, or at least, they're trying.
When a hapless human named Kurusu Kimihito is inducted as a "volunteer" into the government exchange program, his world is turned upside down. A snake-like lamia named Miia comes to live with him, and it is Kurusu's job to take care of her and make sure she integrates into his everyday life. Unfortunately for Kurusu, Miia is undeniably sexy, and the law against interspecies breeding is very strict. Even worse, when a ravishing centaur girl and a flirtatious harpy move in, what's a full-blooded young man with raging hormones to do?!
(Source: Seven Seas Entertainment via MAL)
Bikini Warriors (July 8th 2015)
The setting is a an RPG-style world with swords and magic, where adventurers form a party to challenge the demon king's right to rule. But, the adventurers all have beautiful breasts, enormous breasts, and bikini armor!!
(Source: official website via Anime News Network)
Kuusen Madoushi Kouhosei no Kyoukan (July 9th 2015)
The story is set in a world where humanity, driven off the land by the threat of magical armored insects, now live in aerial floating cities. Thus wizards — aerial combat mages who fight the insects with magical powers — came into being.
Kanata Age (Eiji) is a young man who lives on the floating wizard academy city of "Misutogan." He was once celebrated as the "Black Master Swordsman," the elite ace of the S128 special team. However, he is now despised as the "traitor of the special team." One day, he is assigned as the instructor of E601, a team that has suffered 10 consecutive defeats. E601 has three girls — Misora Whitale, Lecty Eisenach, and Rico Flamel — with one or two peculiar quirks.
(Source: ANN)
Junjou Romantica 3 (July 9th 2015)
Third Season of Junjou Romantica.
Himouto! Umaru-chan (July 9th 2015)
An anime adaptation of Himouto! Umaru-chan manga. The sibling gag comedy manga centers around Umaru, Taihei's little sister who boasts beautiful looks as well as prowess in both school and sports. However, "Himouto" (beautiful little sister) has a certain secret.
(Source: ANN)
Gakkou Gurashi! (July 9th 2015)
Takeya Yuki is in love with the school. For her, it's a wonderful place, where she enjoys her school activities, especially the activities of her club: School Life Club. The club has Rii-chan as the president, Kurumi-chan as another member, and the teacher, Megu-nee, always there for them. Yes, she is in love with her school… on her mind. Because, for her, the reality of the school and their club's activities is way too hard to be perceived.
The First Article of the "School Life Club" Code reads: The School Life Club encourages a spirit of self-governing independence by camping at school, as well as socializing with various after-school clubs, which you can't enjoy from regular classes alone."
(Source: Moetron)
Danchigai (July 10th 2015)
The story revolves around Haruki and his four sisters: Mutsuki, Yayoi, Uzuki, and Satsuki. While their life may seem monotonous—aside from the fact that Haruki's sisters don't give him a single opportunity to rest, lecturing him about every perceived mistake and playing tricks on him—Haruki still likes his life.
(Source: MAL)
Kangoku Gakuen (July 11th 2015)
Hachimitsu Academy, known for its strict academic standards and even stricter school code, is making a giant change this year. In the first time in school history, they are allowing boys to be admitted. As Fujino Kiyoshi starts his first day at Hachimitsu Academy he is shocked to find out that there are only 4 other guys in the entire school, making the ratio of girls to boys 200:1. And to their dismay, not one of the thousand girls will talk to them or even acknowledge them. But Kiyoshi and the guys are about to find out about the shadow student council that has been threatening the female students about interacting with male students.
(Source: MangaHelpers)
Venus Project: Climax (July 12th 2015)
The story is set in Japan in the future, not too long from now. In this world, data devices and video technology have been progressing to new heights, and people are abuzz about a new form of entertainment — Formula Venus. In Formula Venus, abbreviated as F-V, the chosen top idols battle in live performances with their willpower, skills, and all the experience gained. The story is about the drama that happens among the girls in Venus Project as they aim for the top by concentrating on difficult battles, passion, and friendship.
(Source: Anime News Network)
Makura no Danshi (July 14th 2015)
1st-person perspective with a new boy sleeping next to the audience each episode.
The boys all live in the same town underneath a starry sky. Each of the "makura no danshi" will star his own weekly episode as they "sleep beside you and whisper."
(Source: ANN)
The IDOLM@STER: Cinderella Girls 2nd Season (July 18th 2015)
Second season of The iDOLM@STER Cinderella Girls.
Pikkapika Summer (July 20th 2015)
No synopsis available.
Fate/kaleid liner Prisma Illya 2wei! Herz! (July 25th 2015)
Based on the Fate/Kaleid Liner Prisma☆Illya 2wei! manga by Hiroshi Hiroyama, itself a spin-off of the Fate/stay night erotic visual novel by Type-Moon.
(Source: AniDB)
Imabari Barysan (July 2015)
Short anime series starring Ehime Prefecture's mascot Barysan.
Suzakinishi The Animation (July 2015)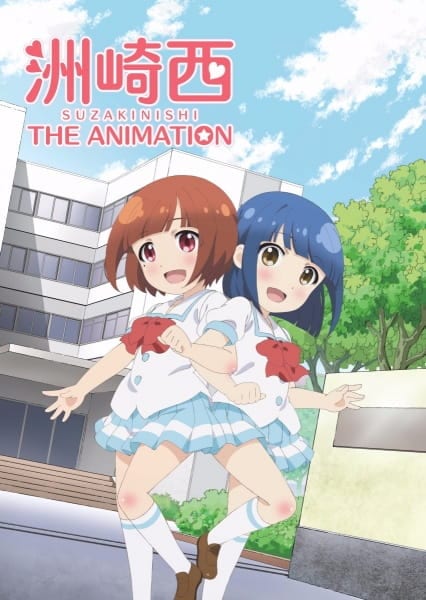 Voice actresses Aya Suzaki and Asuka Nishi announced at an event in Tokyo on Sunday that their "SuzakiNishi" radio program will get a television anime adaptation starting in July. The "SuzakiNishi" radio program airs for one hour late on Wednesday nights on the Nippon Cultural Broadcasting, Inc.'s internet radio station "Chō! A&G+." On the program the two propose and discuss new business ideas.
(Source: ANN)
Chu Feng: BEE (August 13 2015)
In XX AD, a new generation of arms race is emerging. "Vanguards" are the new type of weapons being used on the battlefield. Liu Li is a Vanguard that is about to retire. In her last 380 days she receives her final mission…
(Source: MU)
Yuru Yuri Nachuyachumi!+ (August 2015)
No synopsis available.